Congratulations! You are now on the waiting list, please check your inbox for our confirmation email!
Brazilian single origin Arabica coffee enriched in Coconut MCT oil providing sustained energy and concentration.
Read more...
Single origin Brazilian 100% Arabica beans
Our Brazilian Arabica coffee is well balance with a sweet, nutty flavour mixed with a chocolaty roast taste. Despite their medium-dark roast, our coffee retains it's sweet taste, avoiding unpleasant bitterness, making them great as an espresso.
Due to Brazil's naturally undulating terrain, this coffee is predominately grown at between 900-1,200 metres, qualifying for 'High Grown Coffee' status.
Premium MCT oil sourced 100% from coconuts
MCT (Medium chain triglycerides) are easier for the body to digest because, as the name suggests, they're smaller than long chain triglycerides, such as those found in olive oil. This makes them a great fat source for athletes fast but sustained energy.
Your body turns MCTs into molecules called ketones, which help burn fat, curb cravings and power your brain.
Fatty Acid Composition
Caprylic acid (C8) 57%
Capric Acid (C10) 43%
C8 & C10 are the fastest absorbed and processed for energy compared to C12.
Palm Oil Free
Ingredient
Coconut MCT Oil
Benefit
Fast Acting Energy Source
Brain Octane
Boosts metabolism
Serving Suggestion
Whipped Cream/Plant Milk Latte
Nutritionals


Nutritional Information (per pod)
Nutritional Information (per 100g)


Energy/Energie/Energie/Energie
13.0Kcals/54kJ
216 Kcals/907kJ
Fat/Vet/Fett/Gras
1.0g
16.7g
of which saturates/waarvan verzadigd vet/davon gesättigte fettsäuren/l'acides gras saturés
0.9g
15.1g
Carbohydrates/Koolhydraten/Kohlenhydrate/Glucides
1.0g
16.2g
of which sugars/waaran suikers/davon zucker/de sucre
0.0g
0.0g
Fibre/Vezels/Nahrungsfasern/Fibres
0.0g
0.0g
Protein/Eiwit/Protein/Protéine
0.0g
0.0g
Salt/Zout/Salz/Sel
<0.001g
0.01g
We think you'll also like
Home Hydration Bundle - Still & Sparkling Water - Amino Acids + Electrolytes - 24 units
Rejuvenation Water plant-based recovery, amino acid drink - still - Variety Pack
Regular price

from

£19.99
Nespresso© Compatible Pods Turmeric & Beetroot - 1 Month Supply (30 Pack)
Customer Reviews
Write a Review
Ask a Question
06/23/2021
Justine A.

United Kingdom
06/18/2021
Navneeta G.

United Kingdom
New Keto MCT coffee pods
Every day for me starts with a delicious coffee- usually black bullet proof in various delicious forms! As a mum of two little people and always being being in a rush in the morning, the mere fact that this is a pod containing MCT is absolute genius! An easy, actionable step to continue in a healthy Keto lifestyle I adore and it tastes delicious too. Smooth and nourishing. I'll definitely be enjoying these again and again! Navneeta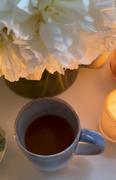 06/17/2021
Yulia D.

United Kingdom
06/21/2021
Allison C.

United Kingdom
Lovely idea & wonderful flavour
Easily used & delicious
06/21/2021
Dionisis T.

United Kingdom
Like the product
I liked the coffee and definitely the espresso recommendation is as far as I would go with it (probably ristretto is better). It may be a personal preference but I would prefer a fuller coffee flavour because it tastes a bit weak for me but generally not a bad taste
07/04/2021
Rejuvenation Water
Great feedback, I really appreciate the honesty. We will be working on a darker roast coffee in the future
Frequently Asked Questions
Which Nespresso machines do your pods fit?
Our pods are designed for the original Nespresso machines, not the Vertuo or Dolce Gusto machines
Are you pods recyclable/compostable?
Our pods are made from a plant biomass so are fully compostable. You can dispose of them in the general waste
Are your products suitable for tested athletes and sportsmen/women?
Yes, all our products use natural, plant based ingredients e.g. amino acids and electrolytes. They don't contain any banned/regulated substances.
How much sugar is in your pods?
There's just 0.6g of sugar per pod. This is naturally occurring sugar from the natural turmeric and beetroot
Are your pods suitable for Vegans?
All of our products are suitable for Vegans. We only use plant based ingredients.
Are your pods suitable for the Ketogenic diet?
Our pods, with a small amount of natural sugar, are suitable for the Keto diet
How many pods should I take per day?
The pods have 50% of RDA of many essential vitamins so 1-2 a day would deliver up to 100% of your vitamin recommendations
Where do you ship to?
countries around the World. If they aren't available in your country, please contact info@rejuvenationwater.com and we'll assist.
Delivery
Spend over £15 - get free delivery
View Delivery Info
Returns Policy
Hassle-free 30 day returns
View Returns Info